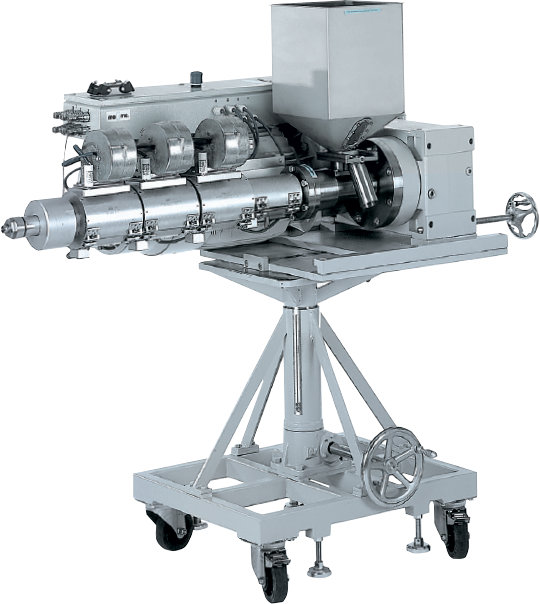 COEXTRUSION
EXTRUDERS
PELLETIZERS
Our core competencies are focused on the production of extruders, coextruders and pelletizers. We offer solutions tailored to customer specifications in all fields of extrusion technology.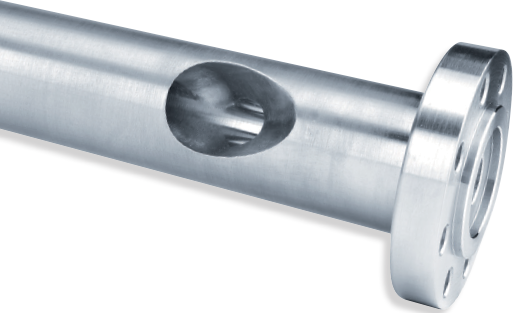 Overview
maGme manufactures extruders to customer specifications for processing all commodity and engineering plastics (e.g. PE, PA, PP, PET, PMMA, PVC) as well as specialty materials, such as PEEK. Our high level of vertical integration allows us to customize each extruder to your specific process.
Our extruders are used from research and prototyping to production and product quality assessment.
We offer single-screw extruders for the production of pipes, profiles, cables, hoses and filaments as well as for pipe and profile sheathing.
Screw diameters in small increments of 14 to 18, 20, 25 and up to 45 mm and L/D ratios of 20, 25, 30 and 33 open a wide range of solutions.
Our extruders stand out for their rugged design, high flexibility and ease of use. Thanks to our high level of vertical manufacturing integration they can be supplied in a wide range of different versions.
Grooved-Barrel Extruders
high throughput rates
pressure build-up in feed zone
high coefficient of friction at the grooved barrel wall
all designs available with screw diameters from 14 to 45 mm
with or without thermal separation
grooved barrel can be interchanged with smooth-bore barrel
Smooth-Bore Extruders
high flexibility
for materials with a high coefficient of friction
suitable for shear-sensitive materials
all designs available with screw diameters from 14 to 45 mm
Laboratory Extruders
selection of screw diameters in small increments from 14 to 45 mm (14, 18, 20, 25, 30, 35, 40, 45)
various different processing lengths and screw geometries
high work load at compact size
frequency inverter control with resolver or encoder
high true running accuracy
high-precision rpm control
use of melt pumps for operations with low output fluctuation
virtually no tolerance errors
Coextruders
available in any mounting configuration
various different processing lengths and screw geometries
always matched to the specific material to be processed
extremely short designs with CMG or KS transmission
linkage to main extruder acc. to your specifications with vertical stand, freely rotatable, on lifting table or with mounting plate
Extruders for Fluoroplastics
barrel made from Hastelloy or powder metallurgical materials
screws made from Inconel with special coatings
special feed zone designs
Pressure Filter Testers
for purity testing of polymers acc. to DIN EN standard 13900-5
easy evaluation software with multiple functions
rugged system, designed for ease of cleaning
permits testing of a wide range of polymers
Processing Units
extruders on special stands
short designs with integrated control cabinet
screws and barrels made from special materials
new concept development acc. to customer specifications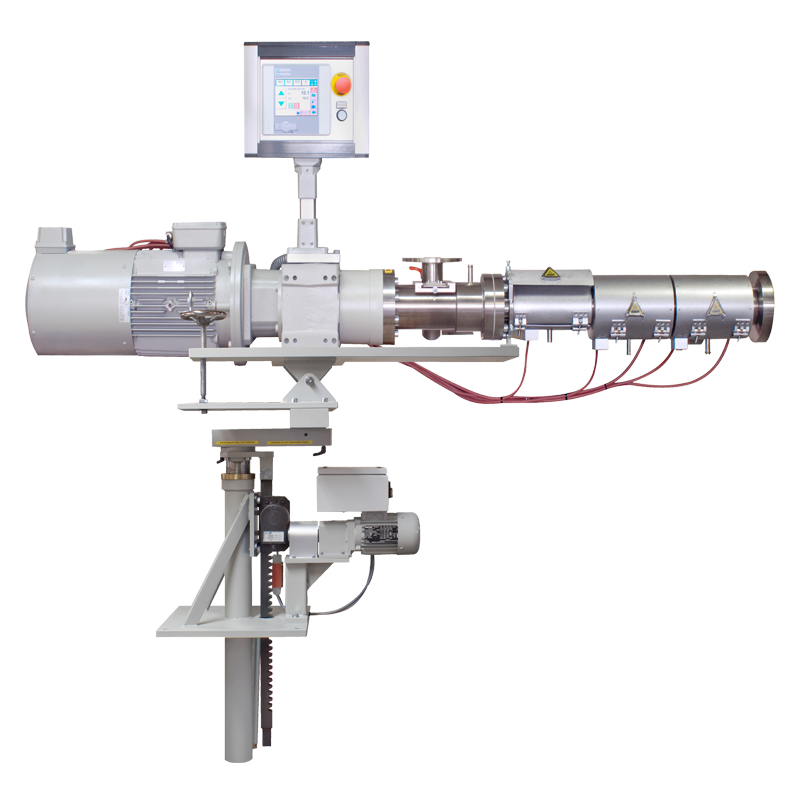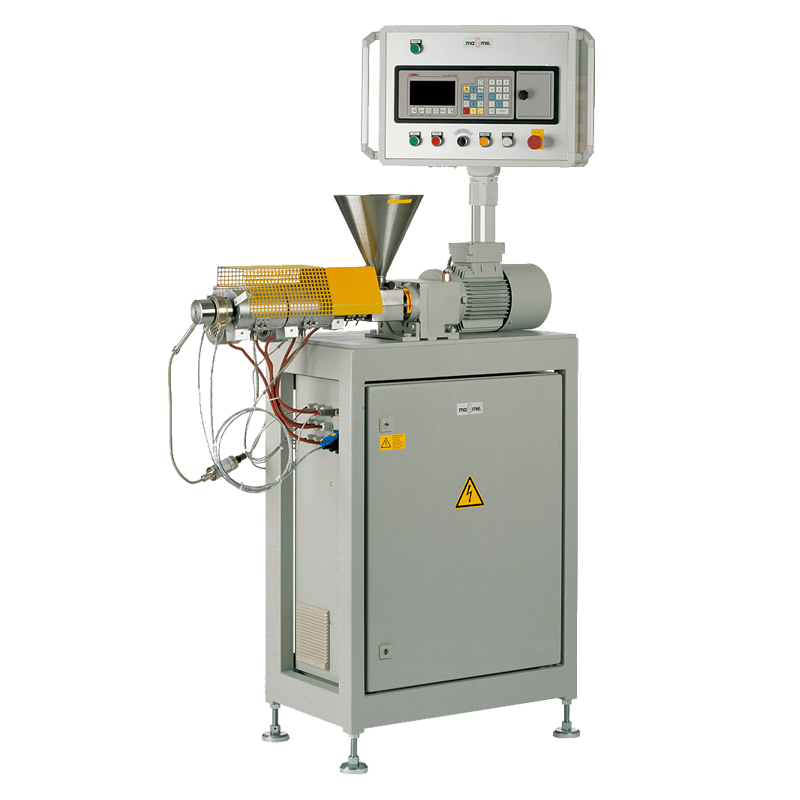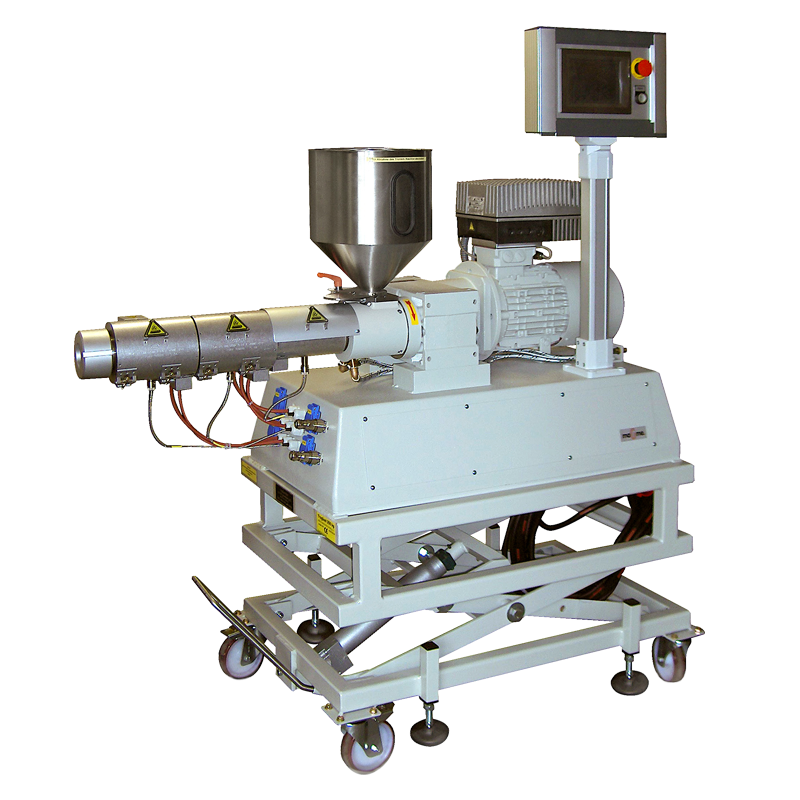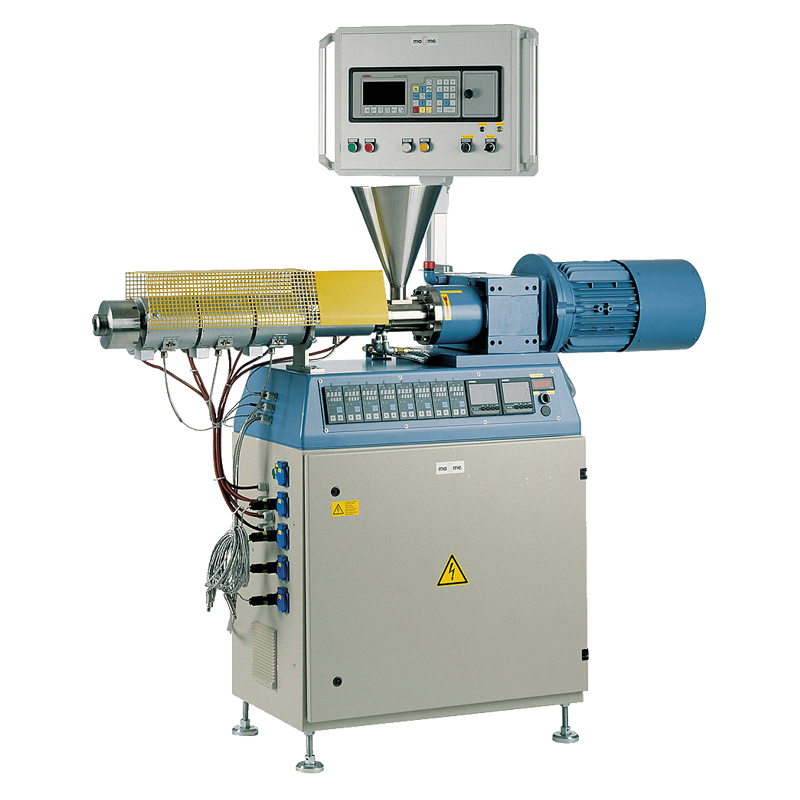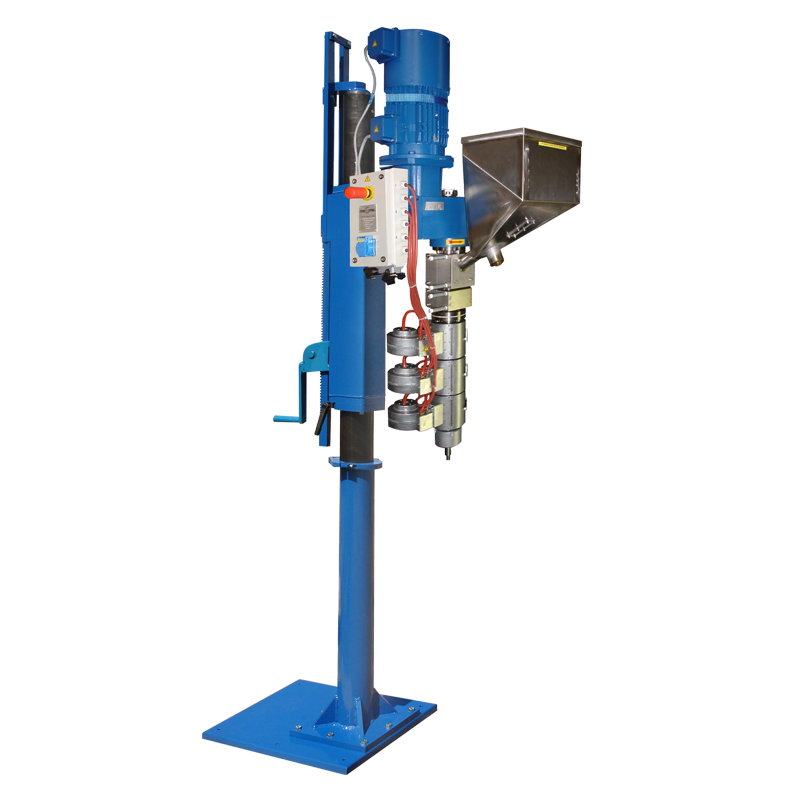 Screws
for a wealth of different materials to be processed
for high output capacities
for low production volumes
with high dispersion capability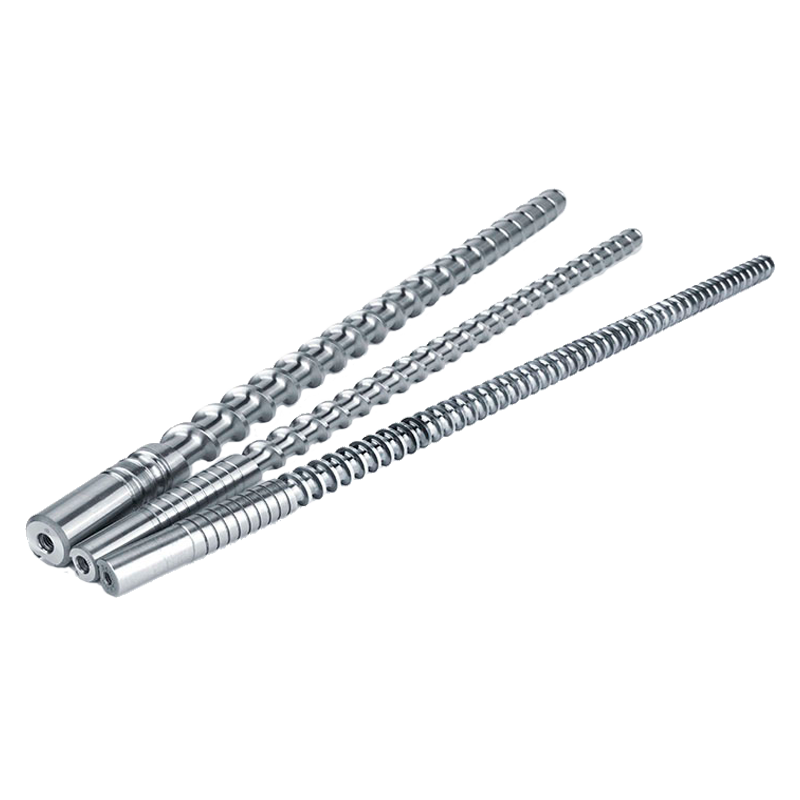 Our control system is a standardized solution that can be custom-tailored to integrate additional proprietary and customer-specific functions.
Control and Display of:
temperature control (heating/cooling) of individual zones
melt temperature
comprehensive monitoring functions (start-up lock, screw release, tolerance band, overtemperature, heating currents)
screw speed (rpm) reading
load (torque) monitoring
melt pressure reading and monitoring
melt pressure DMS sensor calibration
Further Features:
drives with digital process value, access control, setpoint input
bus system
high repeatability rates, precise control, dynamic speed regulation
all typical signals can be recorded, evaluated and adjusted
process parameter correction upon deviations
drives equipped with three-phase frequency converters
touch panel with user-friendly visualization
data interfaces
synchronization with coextruders (master/slave)
communication with host computers (measuring data acquisition, master production computer), documentation by means of evaluation software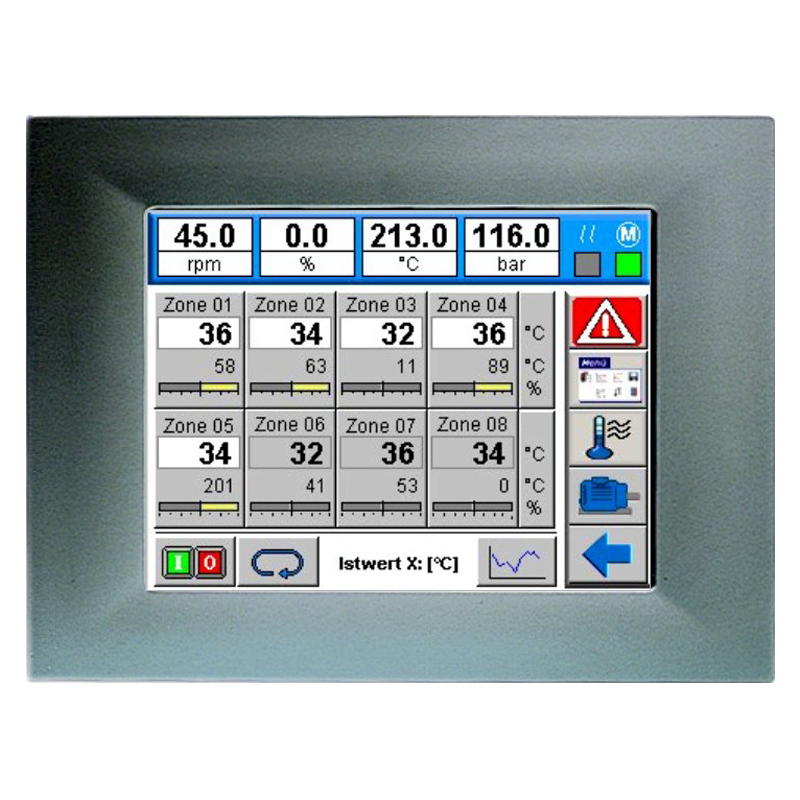 Pelletizers
draw-in speed 0-30 m/min
for up to 3 strands
online pellet length regulation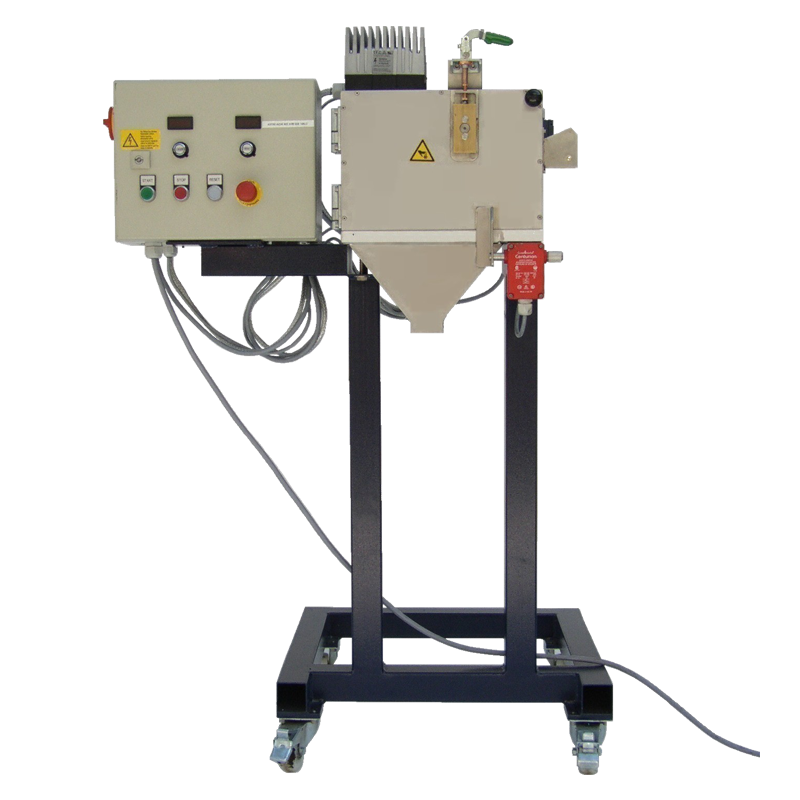 Cooling Baths
available in various lengths and designs
with air jets
with fresh water feed
vacuum tank upon request
Accessory
melt pumps
energy-saving heating sleeve insulation
stand-alone control cabinet on wheels
lifting tables with pneumatic or electrical height adjustment
vertical stands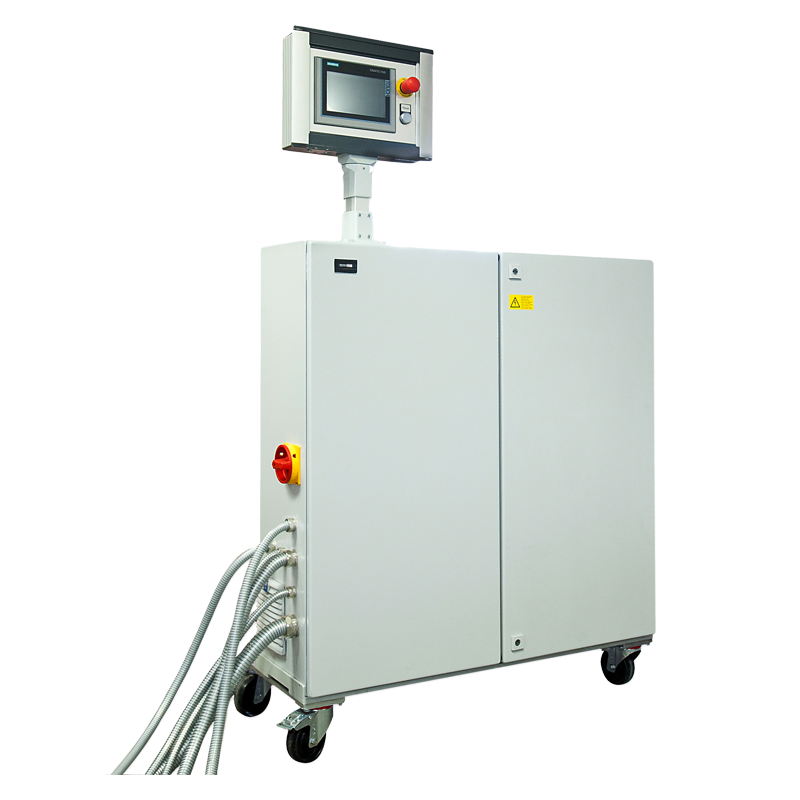 Services
Our core competencies are focused on the production of extruders, coextruders and pelletizers. We offer solutions tailored to customer specifications in all fields of extrusion technology.
Application Areas:
for the processing of PE, PA, PP, POM, PVC, PET, PBT, PMMA, PS, ABS, SAN, PC and PEEK ,PLAC, PTFE, as well as bioplastics and ceramics or other polymers
for the processing of corrosive and abrasive melts, thermoplastics, rubbers, silicones and fluoroplastics
for use as coextruders in film, pipe, blow molding and hotmelt processes
for the production of profiles, hoses and masterbatches as well as for cable sheathing
Types:
Processing Unit with Stand-Alone Control Cabinet
single-screw processing units with or without drive components, in configurations that can be matched to meet specific space requirements, with appropriate band heaters and ventilation acc. to customer specifications
design and production of individual processing units for special applications
Processing Unit for Fluoroplastics
barrels made from powder metallurgical materials or with coated surfaces, screws made from Inconel or Hastelloy or with special coating for the processing of corrosive plastics
Laboratory Extruder with Degassing
extruders with integrated degassing unit for enhanced product quality and reliability
Pressure Filter Testers
for comparing the quality of masterbatches in line with the standardized pressure filter test
for masterbatch testing acc. to European standard EN 13900-5
Recycling Extruders
equipped with special screws and barrels, for all thermoplastics, rubber blends, silicones and fluoroplastics
suitable for the processing of regrind, pellets or pelletized recycle
Smooth-Bore and Grooved Barrel Extruders
grooved feed for high throughput and pressure stability
Motors
All models can be equipped with motors conforming to energy efficiency classes IE2 through IE4. This leads to energy savings of up to 10%.
Together with a synchronous motor you will receive a processing unit of slim and short design that promises high flexibility.
A high-torque drive concept permits oil-free operation and offers the additional benefit of low maintenance.
Drives
Complementing our extruders equipped with bevel or spur gears, we use CMG compact transmission motors. This type of transmission provides for a compact processing unit with quadruple meshing. The use of a CMG gearbox with inboard motors adds to reducing the length of the processing unit.
The gearbox can be designed in Z, L or U configuration to match your space requirements.
Contact
Further information and personal contact
Bettina Gmehling